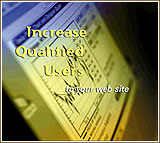 Outsource Data Processing specialize in providing Search Engine Ranking, Web Promotion and Optimization services so that your web-site ranks in one of the top positions of the major search engines for selected keywords.
Search engines are by far the most important source of visitors to our web sites. A top ranking in major search engine will often generate more targeted traffic than other forms of advertising campaign. It is widely felt that any ranking outside of the top 20 is virtually worthless, and anything outside the top 50 completely useless.
Our services include:
Research of the 'high-traffic' keywords and phrases that best apply to your business.
Making the web-site "Search Engine friendly" by inserting targeted meta tags, renaming of images and hyperlinks and images where necessary
We then manually submit your site to all the leading search engines and directories that between them command over 95% of all search engine traffic.
We continue to resubmit your pages as necessary for three months.
At the end of the three months, we provide you with a comprehensive report of your search rankings.