Outsource Data processing provides information processing services like Data Entry, Forms Processing through offshore facilities in India.
Our company specializes in following data entry services: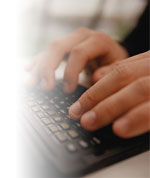 Data Entry
Forms Processing
Word Processing
Information Processing
Keyboarding
Keypunching
Text Entry
Electronic Document Management
Database Management
Whenever you are considering outsourcing of your data entry work, we can do it with full responsibility and your satisfaction with a high speed. We have a reliable and experienced staff with good qualification. They are ready to take long term projects with guaranteed satisfaction.
We can enter text data from printed paper/forms or from graphics files. The text data can be arranged in fields and records or can be arranged in paragraphs with separation between pages. You can sent the files to to us through internet upload/download, e-mail, on CD-ROM, tape, Iomega zip disk or diskette and we shall return them in the same media. Field-based data or survey reports can be returned in delimited text files for so as to import them into a database. Paragraph-based data can be returned in plain text files or in word processing format.